Step Five – Performing
Once you have assessed yourself, explored your options, developed skills and marketed yourself well enough to GET the job, you then have to KEEP the job!  Here are some resources to help with that:
Basic Needs (housing, transportation, food, childcare, etc.)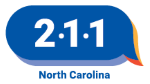 NC 2-1-1 is an information and referral service provided by United Way of North Carolina. Accessible via an easy-to-remember, three-digit number, families and individuals can call to obtain free and confidential information on health and human services and resources within their community. You can also view the database on their website at https://www.nc211.org/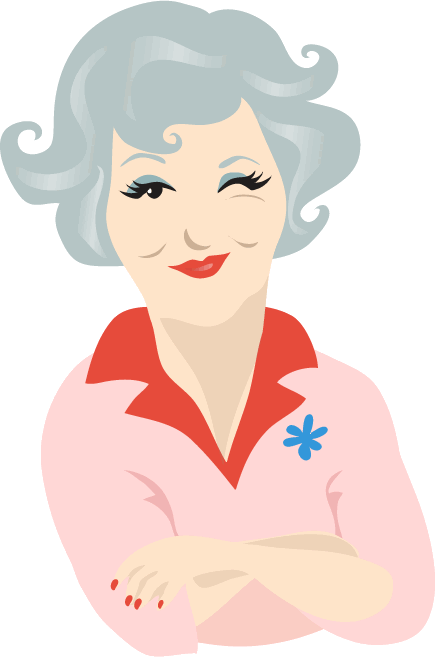 Aunt Bertha
Search by zip code for free or reduced cost services like medical care, food, job training, and more on your North Carolina Community College Campus. Visit the website at https://nccommunitycolleges.auntbertha.com/
Developing Soft Skills
"Unlike hard skills, which can be proven and measured, soft skills are intangible and difficult to quantify. Some examples of soft skills include analytical thinking, verbal and written communication, and leadership.
Research from the Society for Human Resource Management found that technical abilities like reading comprehension and mathematics aren't prized as much as soft skills, meaning you have to bring more to the table than, say, great sales numbers, coding languages, or test scores.
One reason soft skills are so revered is that they help facilitate human connections. "Soft skills are key to building relationships, gaining visibility, and creating more opportunities for advancement," says Kathy Robinson, founder of Boston career-coaching firm TurningPoint.
Basically, you can be the best at what you do, but if your soft skills aren't cutting it, you're limiting your chances of career success."     —  Monster.com
Many of the Career & Technical Education (CTE) courses offered in our local schools include soft skill development. All of our Community Colleges have Human Resource Development (HRD) courses, which often focus on Soft Skills. Our NCWorks Career Centers also offer assistance with learning and refining soft skills.
Financial Literacy
Why should students learn financial literacy?

"Financial literacy classes teach students the basics of money management: budgeting, saving, debt, investing, and giving. That knowledge lays a foundation for students to build strong money habits early on and avoid many of the mistakes that lead to lifelong money struggles."  — Dave Ramsey
Below are some resources that might be helpful for students interested in learning more about Financial Literacy:
10 Fr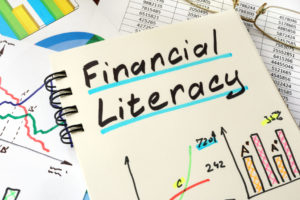 ee Financial Literacy Games for High School Students: Students can use games to learn money management and financial decision-making. (via Edutopia)
https://www.edutopia.org/article/10-free-financial-literacy-games-high-school-students
Improve your financial health with the FDIC's Money Smart online tools. Watch the Money Smart Learn Video to explore the Computer Based Instruction (CBI) and Money Smart Podcast Network. https://www.fdic.gov/consumers/consumer/moneysmart/learn.html
Also, take advantage of events offered through your local Workforce Development Board, NCWorks Career Center, High Schools, Community Colleges, Banks, Community Agencies and more that focus on financial literacy skills. Below is a flyer from the "Real World" event produced annually by the NextGen program with Northeastern WDB.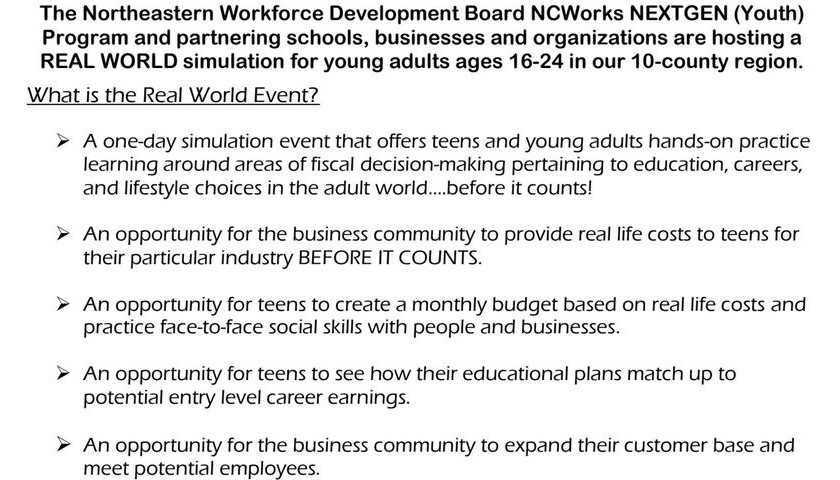 NWDB = Camden, Chowan, Currituck, Dare, Gates, Hyde, Pasquotank, Perquimans, Tyrrell, Washington Counties
REWDB = Beaufort, Bertie, Hertford, Martin, Pitt Counties                  TPWDB = Edgecombe, Halifax, Nash, Northampton, Wilson Counties
Step One     Step Two: NWDB REWDB TPWDB    Step Three:NWDB REWDB TPWDB     Step Four    Step Five