Our second annual Networking Redesigned event was a success!  Due to restrictions because of COVID-19, we decided to hold the event virtually this year.  Our event included 26 participants from 12 agencies throughout our five county region. Below you can find information about how to host your own virtual networking event along with links to some of our documents.  Be sure to email Brandi (brandi.bragg@nencpathways.org) if you need assistance in planning your event or just to let us know that this was helpful for you!
Planning
We kept the same planning committee of four individuals from four different agencies but included a representative from Rivers East Workforce Development Board who allowed us to utilize their Virtual Career Fair platform. You may or may not have access to a platform like this through your own WDB or other organization, but this event can be done via LinkedIn messenger and/or email also. Here is the Press Release we sent: Press Release NR2020
Invitations
We invited all who attended last years' event and all of the partners who attend partnership meetings in each of the five counties. We also shared it on social media and via our monthly partnership newsletter. Because of using the Virtual Career Fair platform and needing time to build out the booths, registration ended three weeks before the event. If you are not using a similar platform that requires time to build, you can do less time. We did ask participants to email their slides a week before the event.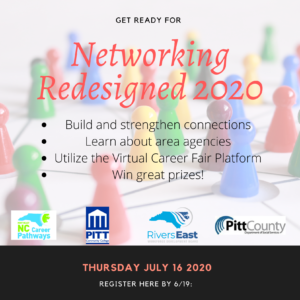 Click below to view our wording for the invitation as well as notices received after registration.
The Event
We decided to create a BINGO game with clues to help attendees find others who have similar interests. We asked each attendee to submit a powerpoint slide with information about their agency and information connected to the BINGO clues (see mine below). You can make your own BINGO card for FREE at https://bingobaker.com/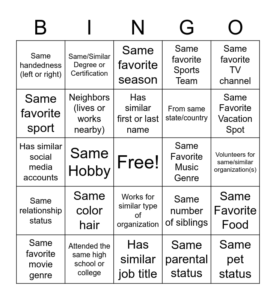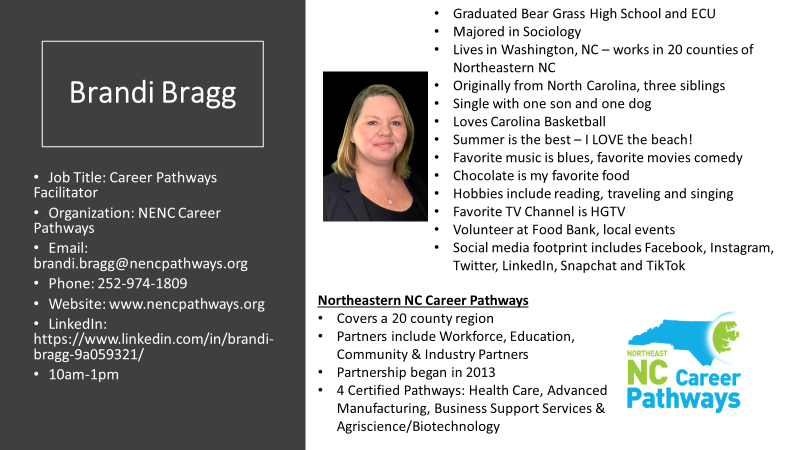 After the event was completed, participants were asked to submit a google form for each person they connected with. The form asked these questions:
List 2 to 3 next steps for connecting with this agency. 

How can your new contact and his/her services help your clients/participants?

What are some services this person/org. provides that you did not know about before today's activity?
Below is the final email we sent before the event to keep everyone on track.
NR2020 – Final Participant email
Sponsors
We were thrilled to have the opportunity to use this platform for the event. Agencies were able to sign up for training and receive assistance to create booths in this virtual world, which they will be able to use during future events as well. Because of having these booths, participants were able to go in and look around and learn more about the organizations even if they weren't networking with someone from that agency. Also, the live chat feature made it easy to choose a time and place for connecting. However, some participants connected instead over LinkedIn, email and Zoom.  Below is what the platform looks like, but you can't see the booths in this shot.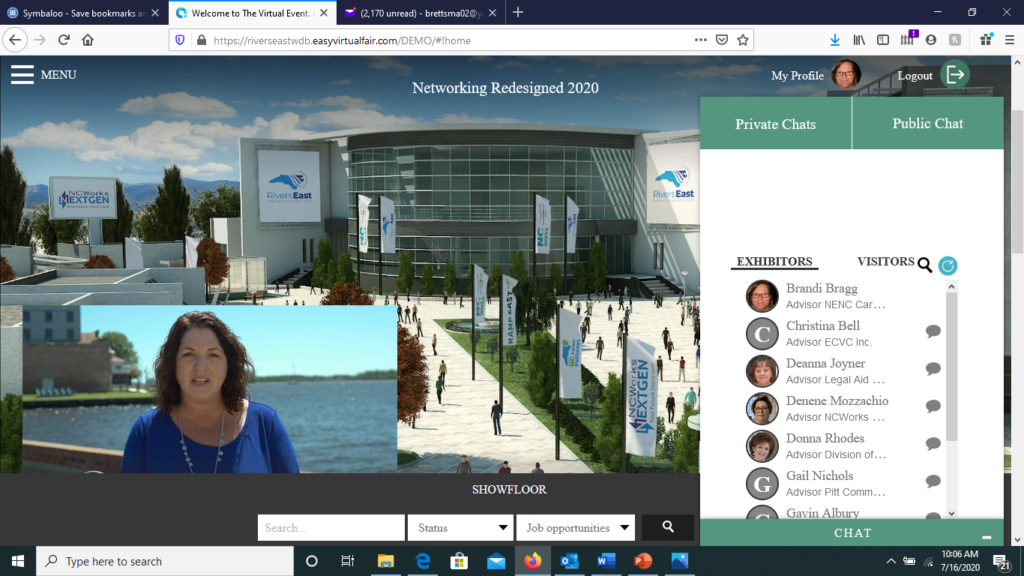 Because we couldn't feed people, we requested sponsors to provide donations of gift cards and other goodies to be drawn for as door prizes.  We ended up with enough donations for 6 prizes, all including at least one gift card. We are sending thank you notes to our sponsors with photos of the people who won prizes. We had planned to do a live drawing via Zoom, but through our interactions with participants we learned that many people were overwhelmed with too many Zoom meetings so we decided to do it via email instead.
Evaluation
Finally, we invited participants to complete an evaluation to help us learn if we met our goals for participant interaction and increased knowledge (we did!) and suggestions for future events.  Some attendees noted that they wished there was a group meeting before the event began as an opportunity to "meet" each other and go over the rules. If we do future virtual events, we will certainly keep that in mind!